Most Properties in Shah Alam
The city of Shah Alam is a top choice for young families and professionals to live, especially those who work in Klang Valley, from oil palm and rubber plantations into a modern industrial landscape.
Situated between Petaling Jaya and Klang, Shah Alam recorded 3,963 property transactions in 2018, more properties than its neighbours Puchong, Klang, and Subang/USJ – with boundaries expanding from 41.69 SQ KM to 290.3 SQ KM consisting of 56 sections.
1. Home to over 650,000 people
Shah Alam's growing population has fuelled housing demand, which has increased by 38.5% after it gained city status in 2000. Unlike Kuala Lumpur and Petaling Jaya, which have grown organically, Shah Alam is a structured master-planned city.
With different sections developed, such as sports, education, government administration center, and industrial developments, Shah Alam housing developments are generally low-density in a pleasant green environment with recreational parks like the Shah Alam National Botanical Gardens.
It offers an environment that promotes work-life balance – where healthy living has become a catchphrase commonly used by property developers when positioning their developments in Shah Alam.
Shah Alam was once perceived as a Malay area due to large tracts of Malay reserve land here, but it has become more multi-racial over the years. Coupled with new housing projects that target young homebuyers, commercial activities have grown, and Shah Alam is becoming more vibrant and diverse.
2. The Many Conveniences in Shah Alam
Setia City Mall, Central i-City shopping mall, Space U8 Mall and the upcoming Sunsuria Forum@7th Avenue offer plenty of entertainment, F&B, and retail offerings.
They have become the go-to places for residents in Shah Alam, especially during the weekends. The malls even attract people from Klang and Subang Jaya.
Families with children will also appreciate the many schools and educational institutions located in Shah Alam, including the Tenby International School in Setia Alam, the Chinese Taipei School Kuala Lumpur in Bukit Rimau, Maz International School in Seksyen 7, R.E.A.L International School, Sekolah Seri Cahaya in Seksyen U9, Management & Science University in Seksyen 13 and KDU University College in Utropolis Glenmarie.
Raja Tun Uda Library is a 6-floor, ultra-modern library located in Shah Alam, which offers a perfect place for study or escape into the pages of a good book. Aside from that,  it has a club called DARC in Shah Alam that provides horse riding classes and family-friendly activities such as our splash pool, archery range, etc.
Young families or wage earners who choose to live here are no longer eyeing affordable or cheaper alternatives. More and more homebuyers are searching for premium residential properties with lifestyle offerings in Shah Alam.
List of Theme Parks In Shah Alam
Apart from having ample convenience, in Shah Alam, there are also a few attractions for people to come to Shah Alam or stay there places like I-city, Wet World and Extreme Park.
1. I-City Theme Park
This theme park is one of the most popular places for entertainment! Two categories of activities drive it: WaterWorld, City of Digital Lights, FunWorld and many more. It is situated on a 25-acre tourism destination, divided into 4 precincts. This is a top place for people to come by and chill during the weekends or school holidays
2. Wet World Water Park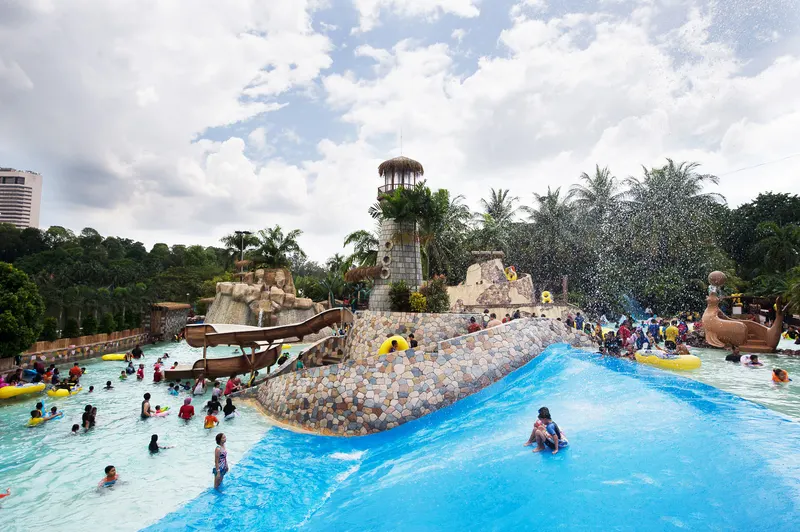 Time to enjoy the fun! Wet World, Malaysia's largest chain of waterparks, holds on to its promise of creating fun times for everyone. Priding itself as a value-for-money and family-oriented park, Wet World Waterparks are located at Shah Alam (Wet World Shah Alam). The park is ideal for hosting group functions, carnivals, parties, family days, school picnics, corporate events and fundraising activities.
3. Mbsa Extreme Park Section 13
The industry in which Mbsa Extreme Park Section 13 operates is a glorious amusement park ride. The country where Mbsa Extreme Park Section 13 is located in Malaysia, while the company's headquarters is in Shah Alam. This place offers a place for skateboarding, rollerblading & rock climbing.
3. Property Prices Continue to Climb
The average transaction prices of residential properties in Shah Alam peaked over 2015/16. Nevertheless, property prices here have significantly increased from 2012 prices.
1. The average transaction price of a terraced house in Shah Alam in 2019;
RM329 PSF in 2012
Peaking at RM418 PSF in 2016
Declining to RM389 PSF in 1H2019
Despite the recent price dip, the current value of terraced houses has risen 18% overall compared with the 2012
2. The average transaction price of semi-dees and bungalows;
At RM403 PSF and RM361 PSF respectively in 1H2019
An increase of 8% and 7%, from RM373 PSF and RM337 PSF in 2012
3. The average transaction price of high-rise residences;
Has jumped 75.5% to RM441.50 psf in 1H2019 from RM251.50 psf in 2012
In terms of sales volume, terraced houses and high-rise residences were the most transacted properties, followed by semi-dees and bungalows.
i-Residence in i-City, Suria Jelutong in Bukit Jelutong, and the Vista Alam serviced apartment in Seksyen 14, Shah Alam, were the top three high-rise residential properties transaction in 1H2019.
Regarding preferred locations or projects, the 2018 transaction data showed that Setia Alam topped the list, recording the most transactions in 2018.
Other popular areas include Seksyen 13, Seksyen U1, Elmina West at Denai Alam, Taman Sri Muda and Kota Kemuning.
4. A City with So Much More to Offer
Located about 30 km from Kuala Lumpur city center and about 20 KM from Port Klang, Shah Alam's strategic location gives its industrial sector an advantage. As long as industries here thrive, they will have a spillover effect on housing, retail, services, education, leisure, and entertainment.
Besides its housing affordability, the availability of jobs and its student population also contribute to strong rental demand in Shah Alam, attracting investors looking for rental returns.
Established townships or master-planned gated-and-guarded communities, such as Setia Alam, Kota Kemuning, Glenmarie, Section 13, and Seksyen U1, U2, U5, and U8, will attract homebuyers.
Another growth catalyst for the city is the Bandar Utama-Klang Light Rapid Transit 3 (LRT 3) Line which is slated to be completed in February 2024. The 37.6km LRT 3 line, which connects Bandar Utama to Johan Setia in Klang, will improve the working population's mobility to significant hubs in Petaling Jaya and Kuala Lumpur.